Really Mark? Really? Iranians are shooting AK-47's into the sky over the Sixers winning game 1 against the Pistons? The starving children in Darfur turned on their imaginary TV's and cheered the underdog Sixers to a 90-86 victory over the heavily favored Pistons? Shocked the world is a little strong, considering the low attendance numbers pro basketball has been showing all over the league. Those numbers have increased as we head into the playoffs but the NBA is still struggling to garner the type of response from fans that it had in the mid-to-late nineties. And the Sixers are one of the harder sells in the nation; a team with no real stars in a town with a killer baseball team.

But still, props are due. And always a lover of Philly teams, no matter the sport, I gotta give it up for our boys. I hope and pray the excitement of a Philadelphia presence in the NBA playoffs draws me back to basketball. I used to be a massive fan. And the reasons are beginning to pile up.

First of all, ever since Ed Stefanski replaced Billy King as GM, the team has had a spark. They are playing unselfish, uptempo, fundamental basketball. I like to think that is all Stefanski's doing because I used to play basketball with his son and if this team makes history, it will make a great story.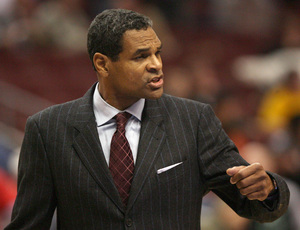 Secondly, my mom loves Mo Cheeks. Always has. My mom has a very endearing quality of never participating substantively to any sports conversation unless it involves someone she either really likes or really doesn't like. For instance, she HATES Jimmy Johnson, not because he was the coach of the most evil team in football but because he left his wife for the game; an unforgivable offense in my mother's eyes. And its not like I needed a reason to hate Jimmy Johnson but it makes me hate him all the more knowing she feels so passionately about it. By the same token, it makes me like Mo Cheeks knowing that my mom does. I don't know exactly what that says about me or the Sixers but he has them playing some damn good basketball so who cares?

Thirdly, the team is very Philly. With not a star among them (say what you want about Andre Miller, no one would call him a star...but if Iverson is a star, I think we can deal with it), this Sixers franchise is usually outgunned, shorter and less


experienced than most teams they face. They win on grit, determination, and hustle. They are an underdog squad battling against stacked odds representing the town that gave the world Rocky. If that doesn't get you on board, I don't know what will.

This leaves me feeling like a bit of a fraud seeing as I have not really watched a game all season. What can I say, the pro game has gotten a little stale. With all the high school phenoms coming in every year, it felt for a while there like the NBA collectively forgot how to make a jump shot. This led to a lot of drive-and-get-fouled offenses to spring up, making for some mundane results.

So if I had one gripe about the Sixers doing well, it would be that I am not prepared. I have wanted to see a championship in Philly since the Phillies lost the series in '93. I have watched all 4 of the major teams make it to the finals in my lifetime only to snatch defeat from the mouth of victory in the final throes.

My biggest concern over the past few years, as my life has grown busier is that if one of our teams does make it, that it will be a team that I am not interested in or have not kept up with. This would make me feel like a fraud for rooting for a team that I have not followed all along. I have never been a hockey fan but Flyers mania got so big in 1997 that I jumped on the bandwagon early enough in the season that I could justify cheering them all the way through the playoffs. But the Sixers caught me completely off guard. Thinking that they would choke right before the playoffs (as has become their custom) I was slow to get into them this year.

But, as you can see, the pros outweigh the cons in this scenario. Give it up for the Sixers. Lets make a run at this thing boys. Make me regret not watching the past few years. And bring excitement, hustle and heart back to the NBA. America will thank you.